CHRISTMAS SALE - 50% OFF SELECT BAGS THROUGH DEC 18th
WILLIAM STROBECK FOR BRAVO CO WORLDWIDE
We are excited to re-connect with Bill for a new colorway of our best selling DELTA camera bag, this time in a rich red w/ a reflective leopard print. Constructed with Weatherproof 500D CORDURA®, the DELTA is built to handle all that New York winters can throw at him. Lots of details on this one, so be sure to click through and check it out.
Coordinating with the DELTA is our first SMU of the QUARTER, to run on its own, or further expand the versatility when combined together via the MOLLE attachment system.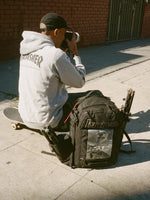 A CONVERSATION WITH ATIBA JEFFERSON
Atiba adds his signature spin on the bag that started it all. This limited edition DELTA is now available, and features a photo from the beginning of his career. Click the button below to read how it all came together.
READ THE INTERVIEW
MULTICAM BLACK™
The MultiCam Black™ pattern was developed to effectively reduce the visual and near-IR signature of a person operating in high-risk domestic environments. In an urban territory, the blend of Gray, Olive, and Black play off of shadows to reduce sharp edges so that the will observer "see" the pattern as part of the background. The MultiCam® family of patterns rely more on a blending effect than a traditional contrast effect to disguise the wearer.
MULTICAM BLACK™ COLLECTION